Wayward or playful? Take your pick with the Tom & Jerry makeup collection!
Get 'Lucky Together' with the Etude House x Tom&Jerry makeup collection this Chinese New Year! With the collection, Q-E3 will be guiding you to create two makeup looks inspired by the popular characters Tom and Jerry.
Q-E3 is using the Etude House x Tom & Jerry makeup collection to teach you how to create a 'Lucky Together' this Chinese New Year! Korean beauty brand Etude House has collaborated with Tom & Jerry to welcome the Year of the Rat on the Chinese Zodiac calendar with its Lucky Together makeup collection. The seasonal collection includes eye shadow, two tone blusher, lip tint, lip balm and beauty tools such as makeup sponge, brush and others!
Inspired by the lovely and witty characters, Tom and Jerry, our editor JiaMin created two different makeup styles in the video. The first style was inspired by Tom's cute and willful character, in which pink-tone eyeshadows were used to match with drooping eyeliners to outline Tom's petulance. The cherry pink-tone lip and blush bring out Tom's sweetness.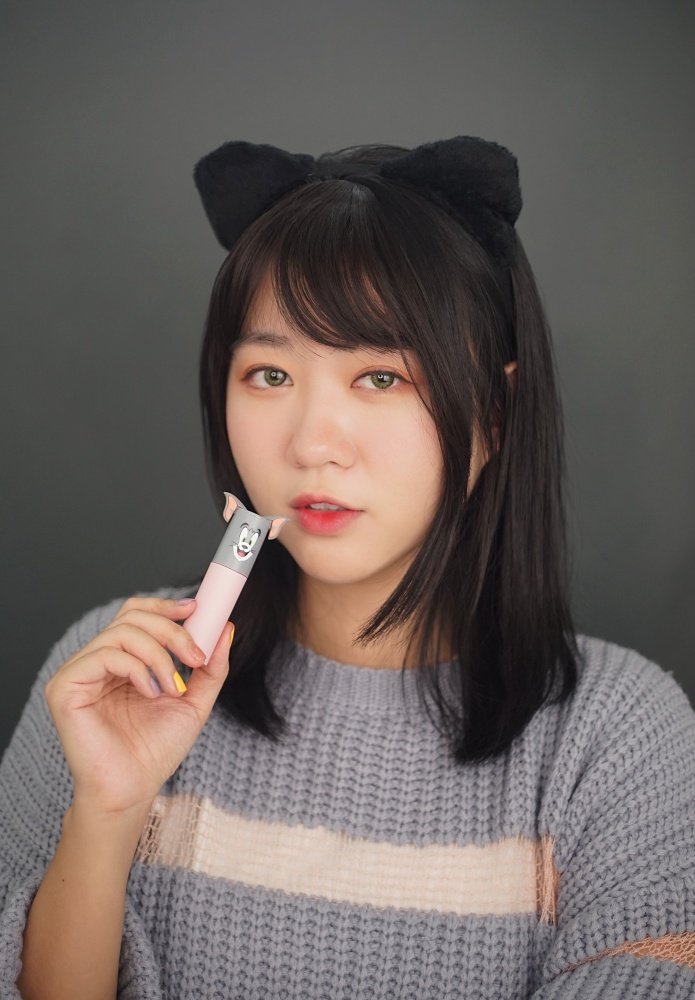 Next is the clever and playful Jerry's makeup style. Befitting to the collection's theme, JiaMin used earth-tone eyeshadows and elongated eyelashes and eyeliners drawn slightly winged to bring out the smart look portrayed in Jerry's eyes. A bright and orange tone lip color was used to present a sweet presence, and the highlight was to bring out Jerry's mischevious and cute image with a red blusher swept in circular motion.
Etude House x Tom & Jerry Lucky Together Collection
1 Tom & Jerry 'Look at My Eyes' Mono Eyeshadows RM24/RM32
The series comes in ten shades of cool and warm undertones. The packaging is illustrated with the characters Tom, Jerry and Spike the bulldog. The shades were inspired from the cartoon's vivid colors, featuring on earth and pink-tones that are suitable for daily use.
2. Tom & Jerry Two-tone Baked Blusher RM53
The blusher comes in a light, silky texture that spreads evenly on the skin. It utilizes a combination of two colors that work better together for delicate, multi-dimensional cheek makeup. The products are presented in 3D-iterations of Tom and Jerry's faces. Jerry-themed blushers comes in a mix of warm and bright tones to create a layered shade; whereas the Tom-themed blushers uses cool tones for a willful and savvy style.
3. Tom & Jerry Colorful Tattoo Tint RM44
The series of long-lasting lip tint comes in four shades in a velvety and smooth texture that is easily applied. The packaging features Tom and Jerry's signature expressions paired with a 3D ears, adding a sense of playfulness to the collection.
4. Tom & Jerry Soon Jung Lip Balm RM36
Made with a mild formula with EWG Green grade ingredients and 90% Panthenoside, the lip balm series provides intensive care for damaged lips. It is available in two shades of transparent and red, delivering a natural liveliness to the lips!
5. Tom & Jerry Color My Brows RM37.50
Available in two shades, the brow mascara range uses a soft-hold gel formula that can fix eyebrows naturally. The shades are earthy tones, available in ash brown inspired by Tom, and light chocolate brown inspired by Jerry, that are suitable for daily wear or party styles.
6. Tom & Jerry Cheese Puff Makeup Sponge RM38
Jerry's favorite food is now made available in a cute cheese-shaped makeup sponge! It comes in a carrying case for easy storage and protection.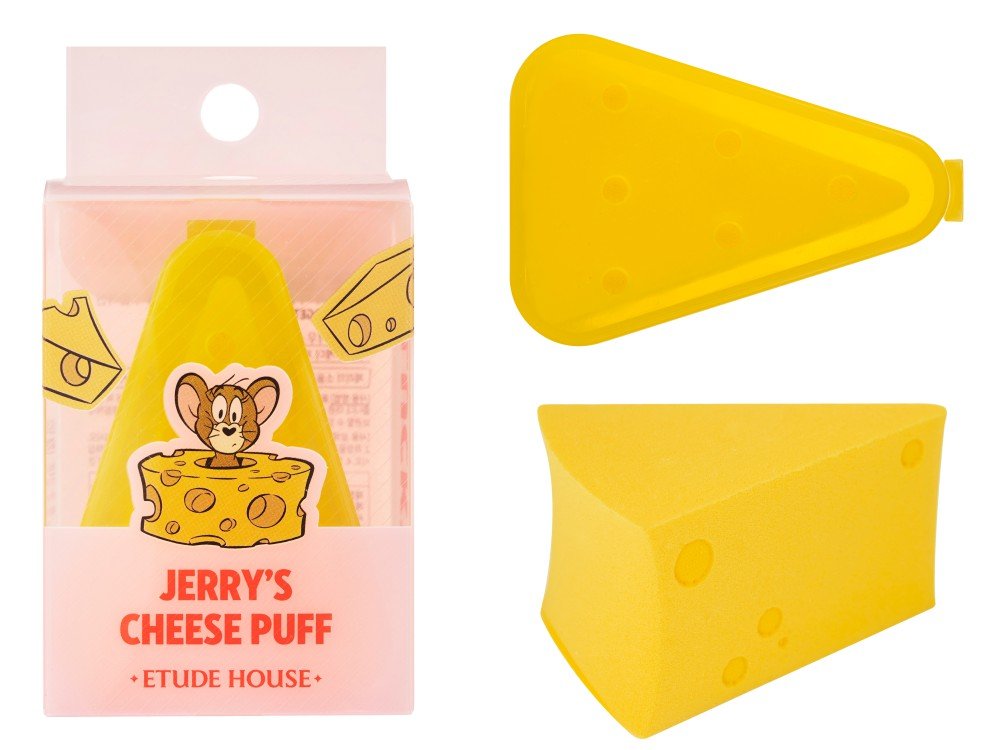 7. Tom & Jerry Cheek Brush and Eye Shadow Brushes RM40/RM34
The limited-edition brushes come in an attractive bright yellow Jerry color. The cheek brush is thick and round in shape, while the eye shadow brush is designed to be dual-ended for application of different texture.
8. Tom & Jerry Eye Shadow Palette Box RM33.50
The 4-shade eye shadow palette box features the limited design with Tom & Jerry character. A mirror and tip brush are included in the box, and you can customize up to four of your preferred eye shadow shade from the 'Look at My Eyes' range.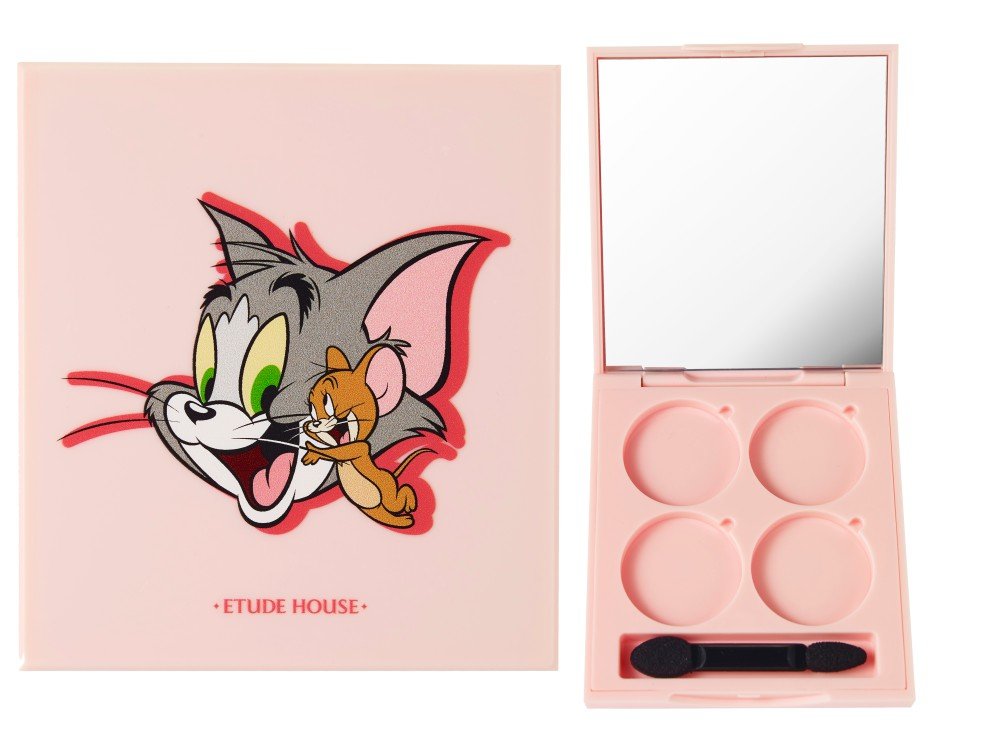 9. Tom & Jerry Face Blur Set RM80
The multi-functional primer is SPF33 and PA++ that helps brighten skin and smooth skin bumps and pores. The blur powder is sweat and sebum-resistant that gives a bright and smooth skin finish.
10. Tom & Jerry Glow On Base Set RM84.50
The set is formulated with gold pearls to hydrate skin, keeping it moist with a natural, dewy glow.
11. Tom & Jerry Soon Jung Barrier Cream RM130
Available in a jumbo size of 130ml, the cream contains 92.2% of skin hydrating ingredients and Panthensoside and is free from nine ingredients that may cause skin irritation. Skin feels refreshed and hydrated for long hours after usage.
12. Tom & Jerry Moistfull Collagen Big Cream RM136
Also available in jumbo size, the firming and moisturizing cream comes in a refreshing gel-cream texture that is formulated with an increased content of collagen for intense skin moisturizing and firming. It is also free from six ingredients that may cause skin irritation.
13. Tom & Jerry Bubble Body Wash Special Set RM62
The limited body wash set is formulated with Centella and Green Tea botanical extracts, making skin healthier and hydrated. The set comes in a bottle imprinted with Tom's character, and a shower sponge with a 3D Jerry character on it, making it a perfect gift to your friends or loved ones.
The limited-edition Lucky Together collection also comes with a Tom & Jerry tooth brush set and pen, available as a PWP.
The Etude House x Tome & Jerry "Lucky Together" Makeup Collection is available from January 2020 onwards at Etude House boutiques and official website.
---
More beauty news:Etude House 2019 假日系列 Rudolph伴你欢庆圣诞!